Don't You Have to Be a Pastor to Serve God??
When I first became a follower of Christ, I was young and foolish and in high school. At the time, I was trying to decide what to major in as I was preparing to launch into college and from there, into the rest of my life. A heady challenge for a 17-year old. Anyway, for a brief period of time, I had made up my mind to become a pastor, maybe because a youth pastor had helped me navigate the thorny path I was hacking my way through in order to find answers to even more important life questions, such as:
Who is God? Is He important in my life? If so, why?
How do you count Him? Is he one or is He three? And why does that matter?
Why have so many rotten things been done in His name? Are those things His fault?
OK, well, now that I've brought these little questions up, I'm going to move on since they are beside the point I'm wandering toward.
So, what is the point? I'll get there, but the reason I bring up this decision to become a pastor is because at the time, when I was a baby Christian, I thought you needed to work as a pastor in order to serve God with the abilities He gave you. I chuckle at that naïve notion now (like so many things I was convinced of in high school).
What I've learned since is that God does in fact want us to use the skills, abilities, experiences, and opportunities He has given us to serve Him wherever He has placed us. This does not have to be in a job that appears to be related to the church in any way. In fact, the Apostle Paul wrote about this on several occasions, including: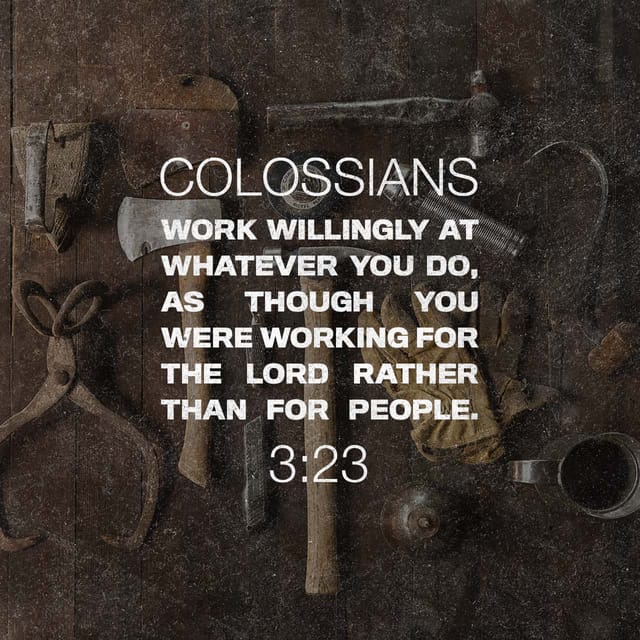 And:
For just as each of us has one body with many members, and these members do not all have the same function, so in Christ we, though many, form one body, and each member belongs to all the others. We have different gifts, according to the grace given to each of us. If your gift is prophesying, then prophesy in accordance with your faith; if it is serving, then serve; if it is teaching, then teach; if it is to encourage, then give encouragement; if it is giving, then give generously; if it is to lead, do it diligently; if it is to show mercy, do it cheerfully.

Paul, in his letter to the Romans (12:4-8, NIV)
At some point in my career and growth as a Christ-follower, these truths became evident to me. Ever since then, I have tried my best to work and lead in my secular jobs in a way that glorifies God and, in my own little way, further advances God's Kingdom here on earth. Like the saying goes, What people see in me may be the closest thing some people see to the Bible. If that's the case, I realized, I'd better make sure that my treatment of people is interwoven with the same respect and love that Jesus showed them when He died on the cross for them before they even knew Him.
It's a tall order, for sure, and impossible for someone like me to carry out on my own, so I thank God for His grace and patience with me every time I fall short. And I am learning to thank Him also for putting me in difficult and challenging situations, giving me greater opportunities to depend on Him to bring me through them while (hopefully) looking more like a light in the darkness than the darkness itself.
Wait, you mean thank Him for tough situations? Well, yeah. Nobody (especially not God) ever said this would be easy. And I did say I'm still learning…
Anyway, all of this is my way of meandering to the answer to my initial question: No, you do not need to be a pastor to serve God. We all can and should serve with excellence wherever we are working as though we work for God. You never know how or when or with whom God will use our meager offerings to bring someone with into relationship with Him.
Caution: Be Careful What You Ask For
There's something to keep in mind here, though. If you pray about serving God, His answer may not be what you expect (which is true of any conversation we have with God). Sure, it might just be helping you to keep doing what you're doing, only better (since you're doing it for God's glory). But God may also take you places or into roles you never anticipated.
Think about it. Jesus turned fishermen and a tax collector into authors, leaders, and preachers, none of which had probably been part of their career plans. He took a Pharisee who was trying to kill Christ followers and turned him into the most prolific author in the New Testament, proclaiming the very Gospel he had been trying to eradicate.
God's answers to our prayers often look strange to us. But that's OK with God, even if it makes us think He's not answering.
So just be aware that when you talk to God about this, He just might answer you! So buckle up and enjoy the exciting ride into the unknown!
Perspective from a New Friend
The term "God, Inc." was brought to my attention (and possibly coined) by someone with whom I have recently become acquainted, Chad Burmeister. I thought I'd take a moment to write about him and how he approaches this idea of working for God in the secular workspace (so it's not just me talking about my experience with this).
As one of the most recent steps in his distinguished career trajectory, in 2017 Chad founded and is CEO of ScaleX.ai, which offers a tool leveraging artificial intelligence (AI) to help companies of all sizes grow sales. I recently had an opportunity to interview him for a side business I'm working on. As it happens (well, actually, I don't believe in coincidences, so it must be a God thing), some of his answers fit in well with this blog, hence my reason for bringing him up here.
Although Chad serves God faithfully in his secular company, he also felt called to start up two additional faith-based companies. The first is a non-profit and podcast called "Living a Better Story", which asks the question, "You're living a good story, but what if you could be living a better one?" The second is a recently launched and exciting mobile app called 77Pray, which is creating a network of followers of Christ encouraging and praying for one another with the goal of growing closer to God. The "77" refers to Matthew 7:7: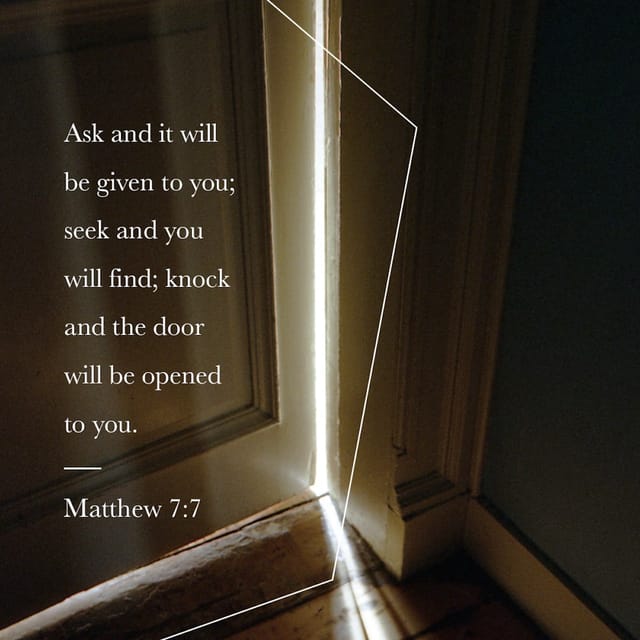 I have downloaded the app and subscribed. It's really exciting to see Believers networking in this way and for this purpose! It's definitely worth checking out. Go Chad!
Anyway, as you can imagine, I have developed a great deal of respect for my new friend Chad. Here are a few of the really cool thoughts Chad shared with me in our interview which, among other things, inspired me to publish this particular blog (all quotes are copyright © 2021 by Chad Burmeister).
When I asked him about living out his faith in the secular business world, this is how he responded:
There are people who want to see you succeed and those who want to see you fail (it must make them feel better). To me, when you focus on listening to God, and doing work for his Kingdom (heaven on earth), and when you see things happen for his glory, it's truly rewarding.

Chad Burmeister
I love that, "when you see things happen for his glory, it's truly rewarding". How's that for a performance bonus? When I asked him how he came to be someone who takes action to shape his life into what he wants it to be and why he thinks others don't do that, he said,
God didn't create everyone to take action. He created all of us with unique traits that can be leveraged into the whole. That said, what I've found is that it helps to 1) complete your past, 2) tell the truth about your current reality, and 3) live a better story. Many of us live in the past or worry too much about the future (me included). Living A Better Story was purpose built to help people solve for that.

Chad Burmeister
Finally, I asked Chad what he looks forward to in the future. This was his response:
Working for God. When you work for a company, or even yourself, it's not as rewarding as knowing you are employed by God, Inc. Seriously, think about that for a minute. I've interviewed 50+ people on the Living A Better Story podcast, a few of them said they actually "work for God". I love the sound of that, and so now I do too!

Chad Burmeister
Obviously the term "God, Inc." really resonated with me since I named this blog post after it!
So that's it for today. We should all go forth and do great things to further the advance of heaven on earth in the service of the most loyal and sacrificial boss ever!